Capital Project Update
October 11, 2022
Phasing & Schedule Update (10-11-22)
Developing detailed milestone schedule for bid documents

Awaiting SED Approval (anticipate Nov. 2022)

Finalize & Prepare Bid Documents: Nov/Dec 2022

Bid & Award: Jan-Feb 2023

Submittals, Construction, Closeout: Mar 2023 –Dec 2024
Operational Impacts:
Project will span two summers

Pool offline April 2023 –Aug 2024

Stadium anticipated offline Mar 2023 –Sep 2023

There will be temporary provisions inside buildings
Capital Project Vote: May 18, 2021
Thank you very much to our community for approving our Capital Project! We couldn't do it without your support. As we continue to move forward with the project we will post updates to this page.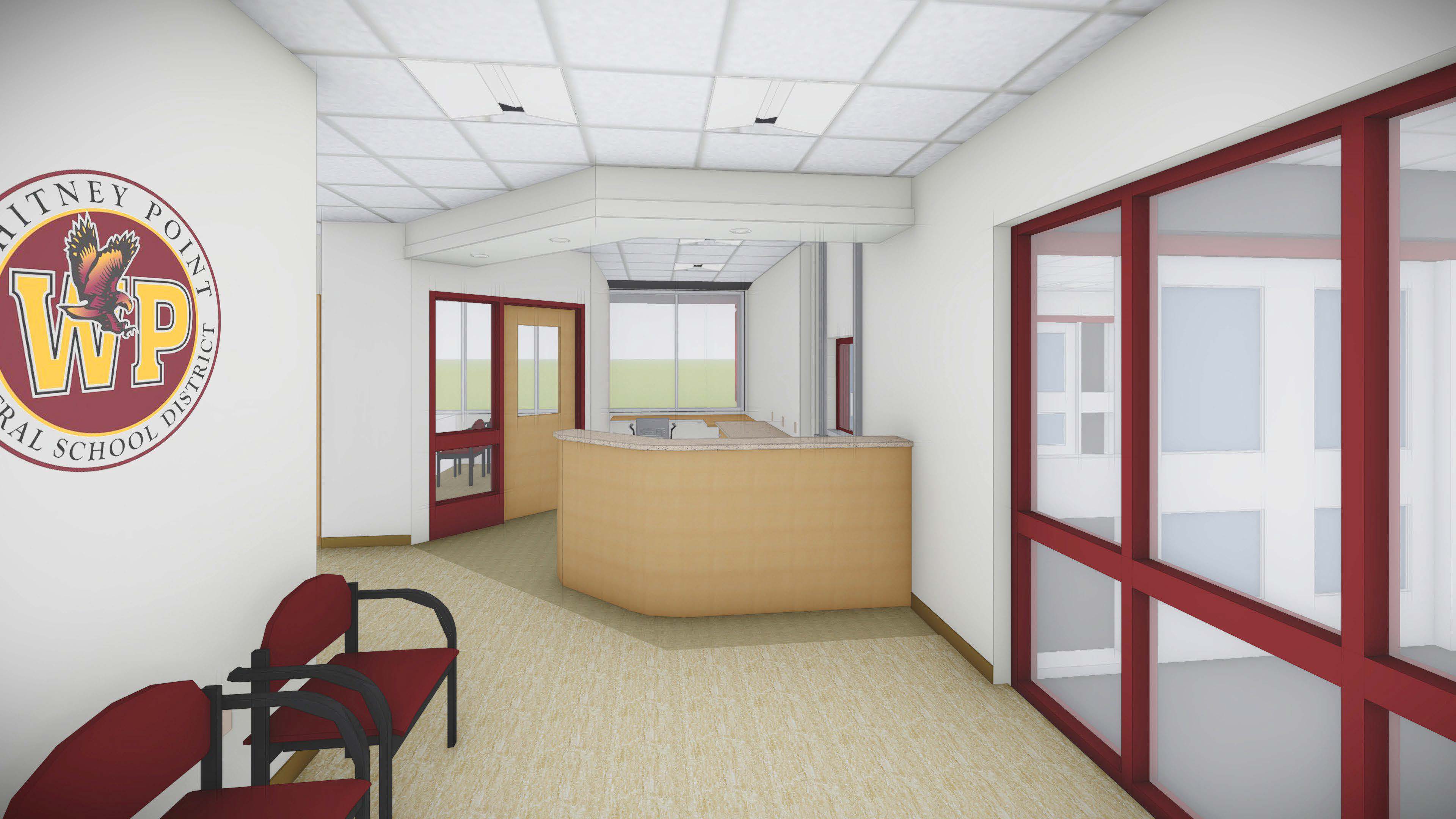 Why Now?
New York State Education Law and regulations require a Building Condition Survey (BCS) for all occupied school buildings to be conducted at least every five years. Our BCS was completed in 2020 and the infrastructure items included in this project are considered "High Priority"

Investing In Our Future: Instructional space improvements and upgrades to enhance our educational programming. KIDS are the POINT!

Leveraging Financial Resources: Due to our financial planning and stewardship, we can put forth this Capital Project now without an increase to the tax levy.

Preserving the Community's Asset: Our school district is also the center of the community. We are truly a community hub and it's imperative that we provide safe and secure facilities.

Planning for a project takes many years. If the project is approved, construction will begin in June 2022 and end by Fall 2023.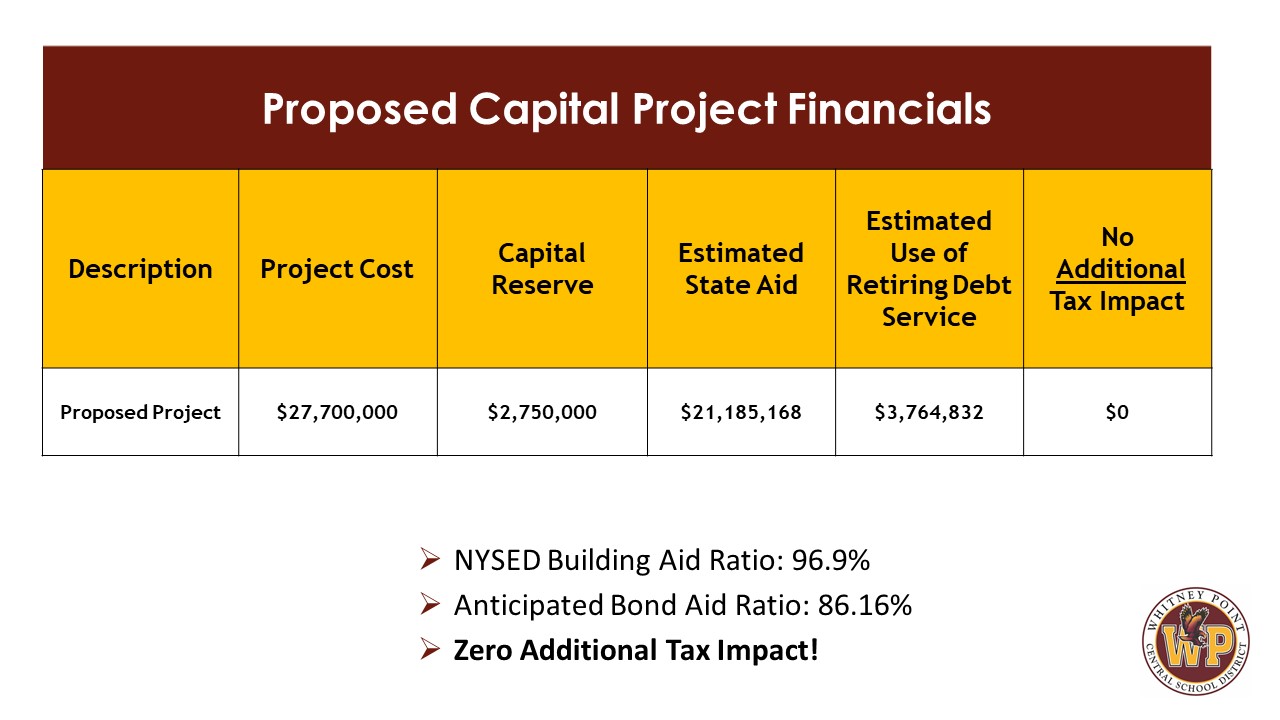 Links
Proposed Capital Project Presentation
Project Breakdown
Caryl E. Adams Elementary
Main Entrance Vestibule, Lobby, and Office Reconfiguration (Enhanced Building Security and Improved Visitor Access)

Pool Renovation & Addition

Gymnasium Renovations

Classroom and Corridors Lighting Replacements

Classroom and Corridors Ceiling Replacements

Classroom Toilet Room Flooring Replacement

Public Address System Upgrade

Heating, Ventilation, and Plumbing Replacements / Improvements
Tioughnioga Riverside Academy
Main Entrance Vestibule, Lobby, and Office Reconfiguration (Enhanced Building Security and Improved Visitor Access)

3rd Floor Renovation into STEAM/Special Education Space

Cafeteria Renovations

Select Flooring Replacements

Exterior Masonry Walls Repairs / Improvements

Select Roof Replacements

Heating, Ventilation, and Plumbing Replacements / Improvements

Flagpole Replacement
High School
Main Entrance Vestibule, Lobby, and Office Reconfiguration (Enhanced Building Security and Improved Visitor Access)

Cafeteria Renovations

Select Auditorium Improvements

Computer Server Room Improvements (Enhanced Safety and Security)

Structural Steel Roof Reinforcing

Heating, Ventilation, Electrical, and Plumbing Replacements / Improvements

Secure File Storage Improvements

Loading Dock Improvements
Tymeson Field
Multi-Purpose Artificial Turf Field

New Hybrid Track (Designed for Wider Field)

Concession/Restroom Building

New 1,000 Seat Home Bleachers

New Press Box

Lighting

New Fencing and Athletic Storage
Bus Garage
Fencing Replacement (Increased Security)

Paving Improvements (Parking Lot & Entrance)

New Sidewalk

Interior/Exterior Door Replacements

Exterior Repairs

Electrical and Plumbing Improvements
Media Coverage
More Info
For questions or more info about the project, contact our School Business Executive Zachary Woodard: ZWoodard@wpcsd.org