Get ready to be amazed! Here's a sneak peek of the creative works of our Eagle artists, which will be on display at the District Art Show today (6/6) and tomorrow (6/7) from 3-8pm. Spread the word!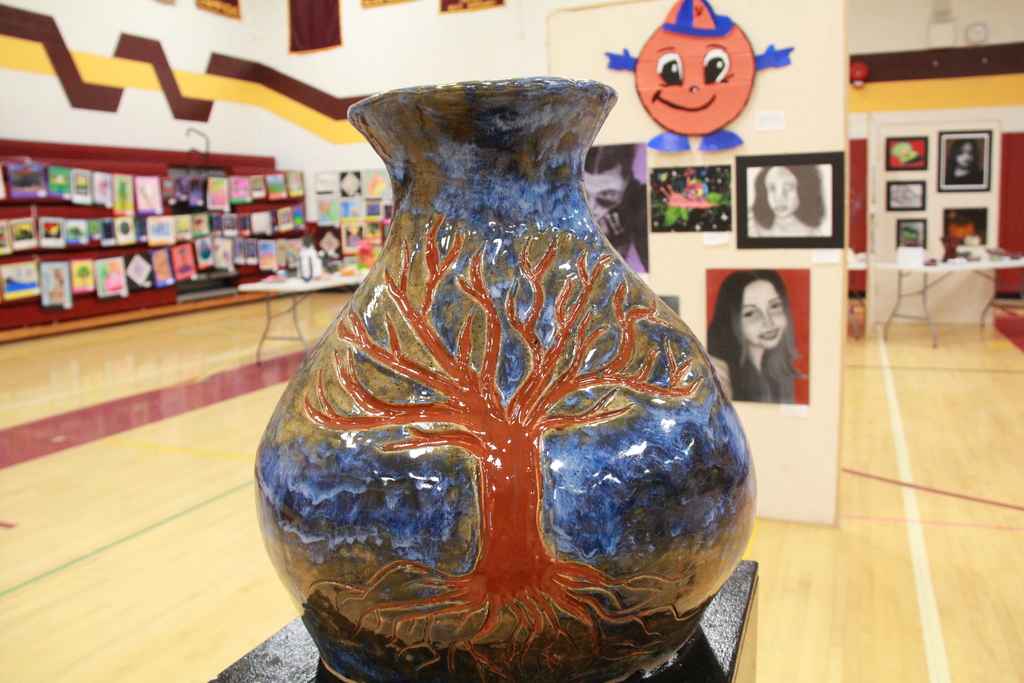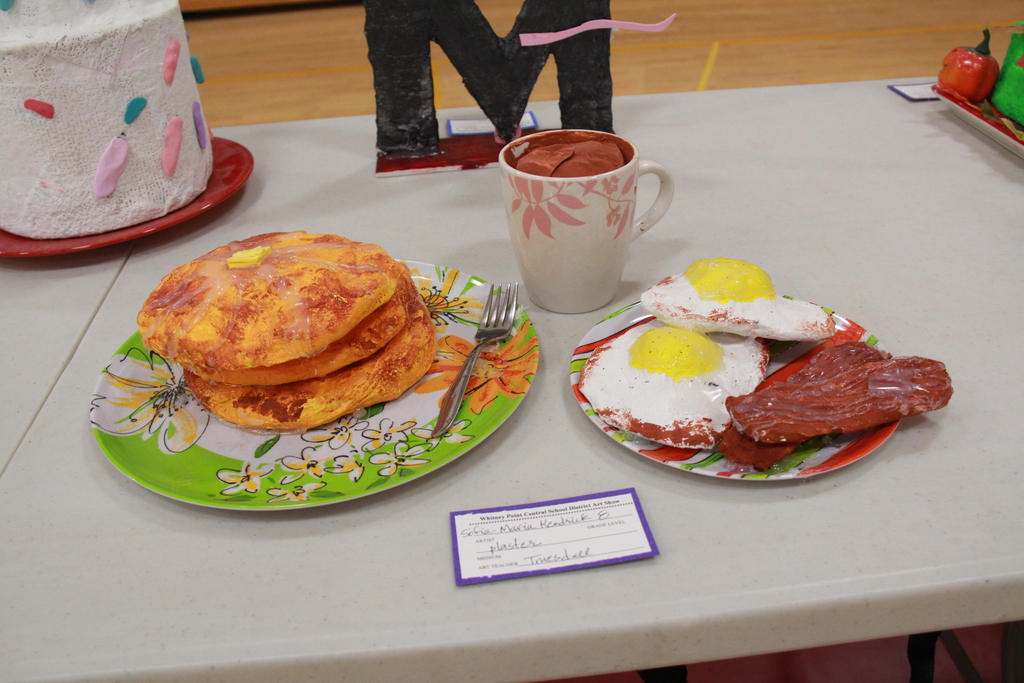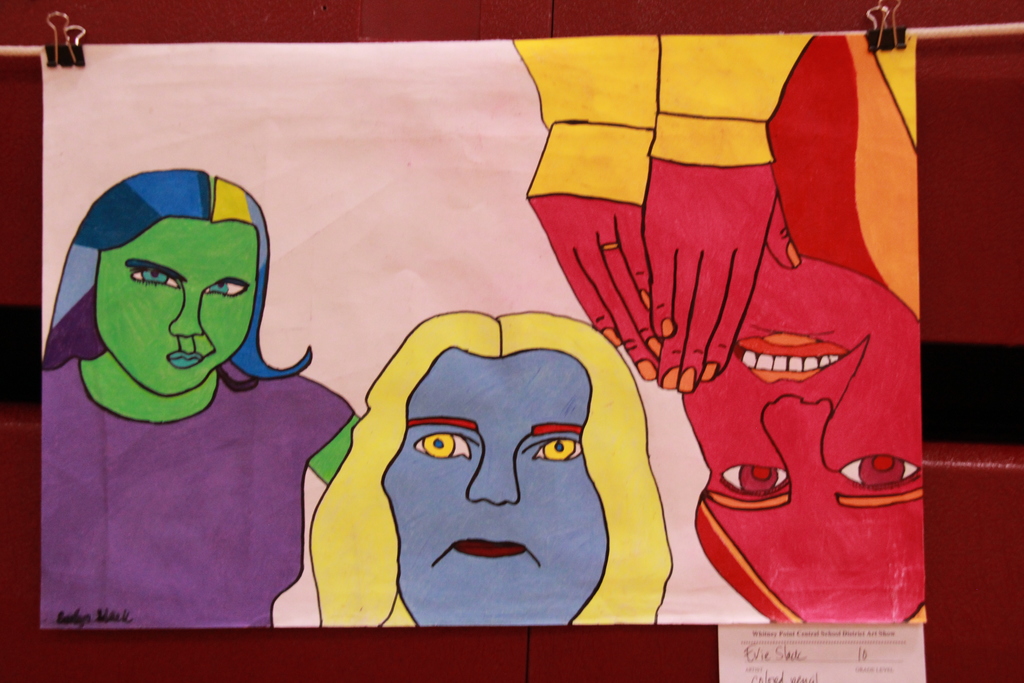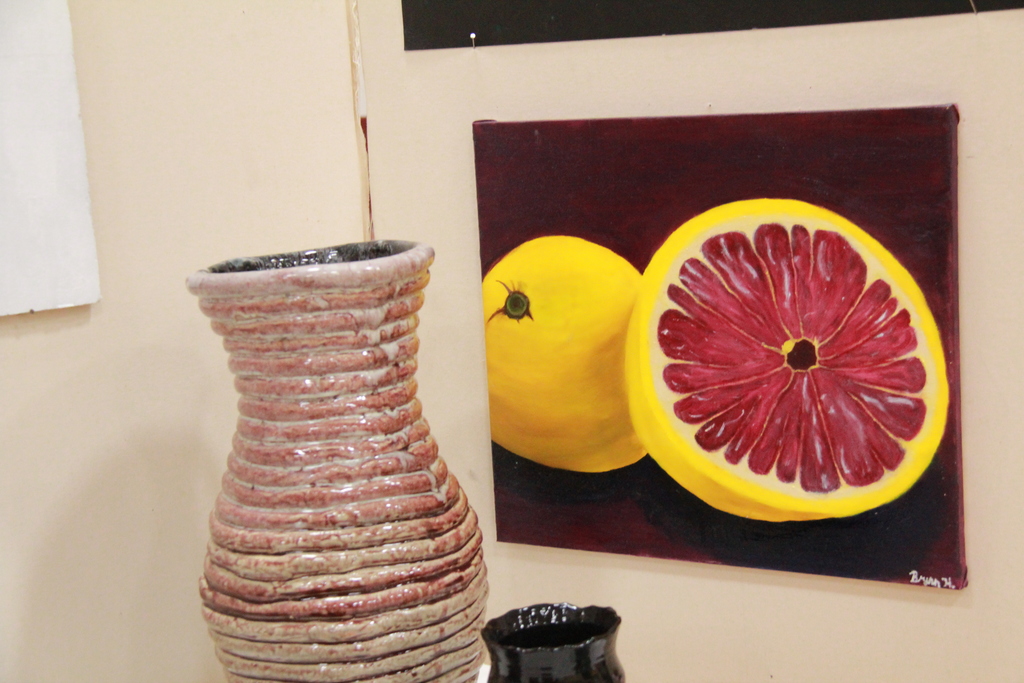 Hold onto your seats, because the Whitney Point Youth Club is bringing the heat with an event that will leave you breathless! Get ready for a basketball showdown like no other, as the Harlem Wizards take on the mighty WP Teachers and Alumni! It's a night of high-flying action that's perfect for the whole family, with unbelievable dunks, mind-blowing trick shots, and non-stop fun. The Harlem Wizards are known for their electrifying basketball skills, and they're coming to town to show us what they've got! But don't count out the WP Teachers and Alumni, who are stacked with some of the best basketball players in Whitney Point High School's history. This is a game that will go down in history, so make sure you're there to cheer on your favorite team!
https://pretix.eu/harlemwizards/whitneypointny06-08-23-07-00pm/?fbclid=IwAR1BcNhdV9pMpe7ZkNiP4RuVn2_SfdxiH5IMe_5fmSI92NU4qCMePl6SVWA

See graphic for information on the Title 1 Parent Meeting on June 13th.

Are you a young person struggling with mental health or know someone who is? Do you want your voice to be heard and to make a difference? See the flyer below on how to join an upcoming Youth Mental Health Listening Session.

Girls Who Code is currently recruiting high school and middle school female participants for the upcoming Fall 2023 program at Binghamton University. This Fall, they will be offering three in-person classes: Beginner Python for Middle and High Schoolers, Beginner Web Development for Middle and High Schoolers, and Intro to Robotics for Returning Middle and High Schoolers. The deadline for registration is August 14th.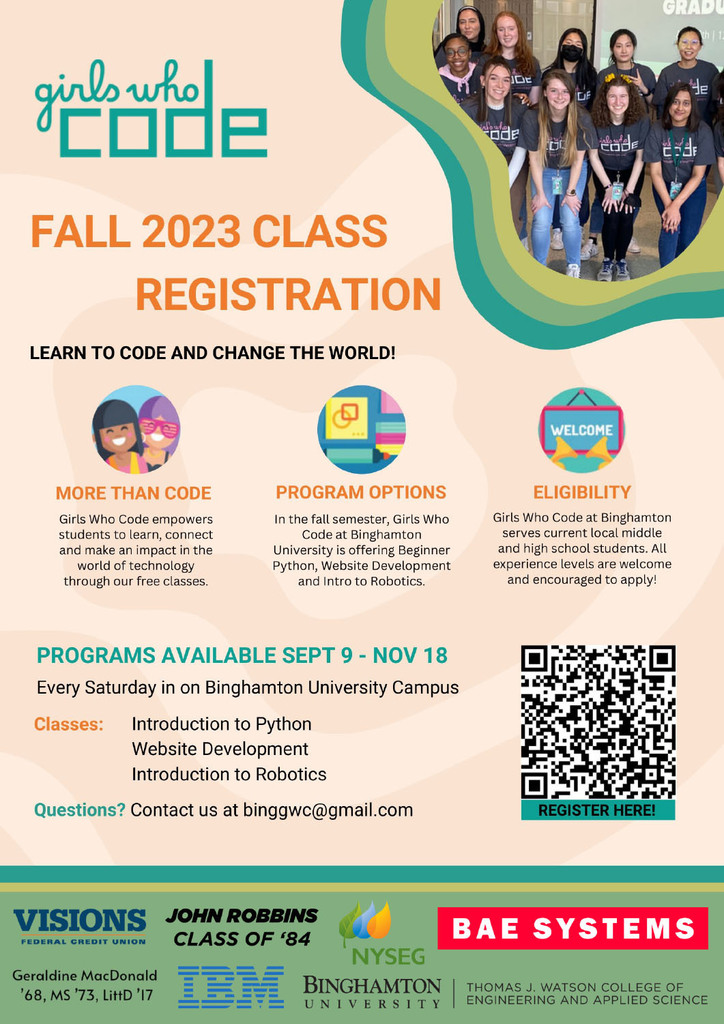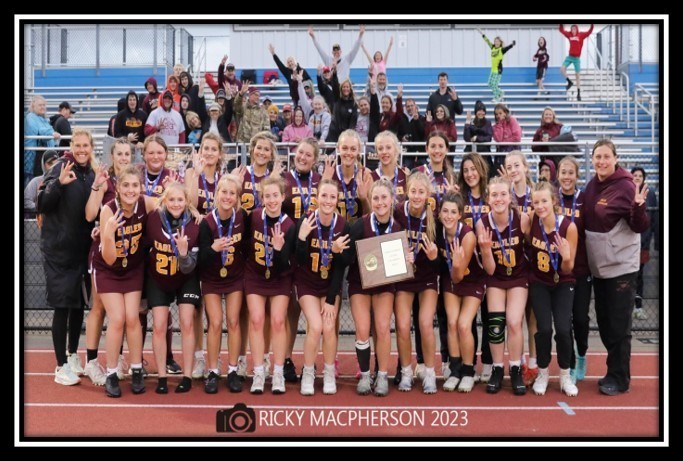 WPCSD's Summer Enrichment CAMPS (6th-8th) Program. See flyers for information. Students should not sign up for the same camp multiple times.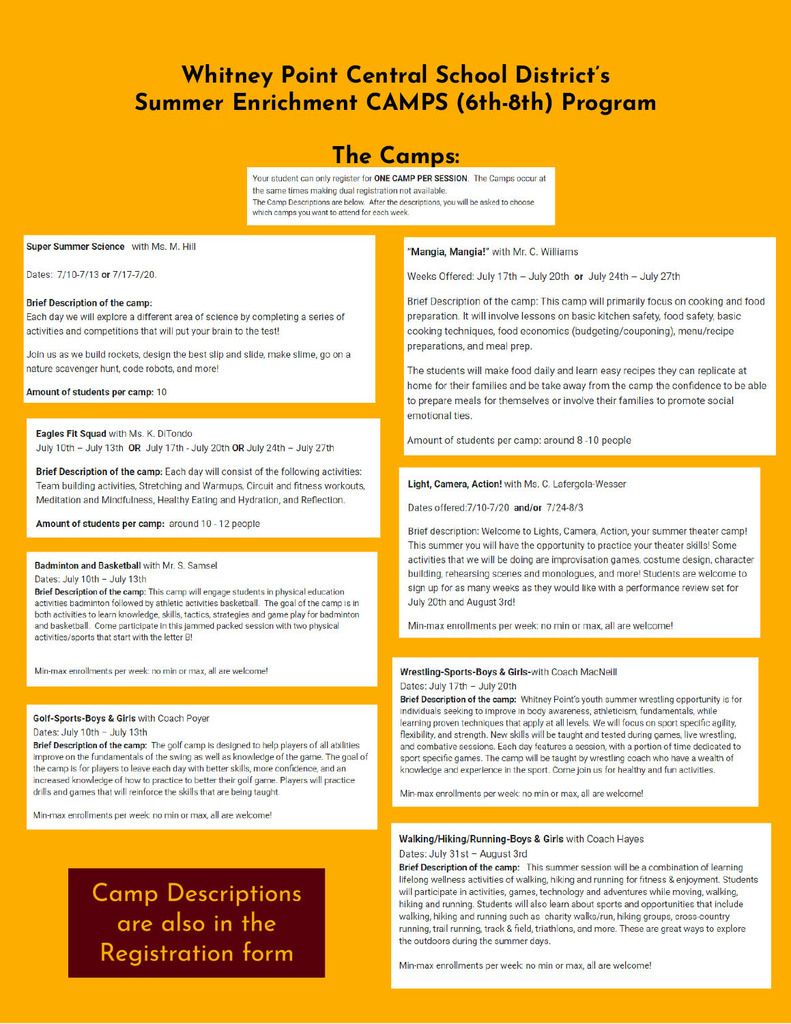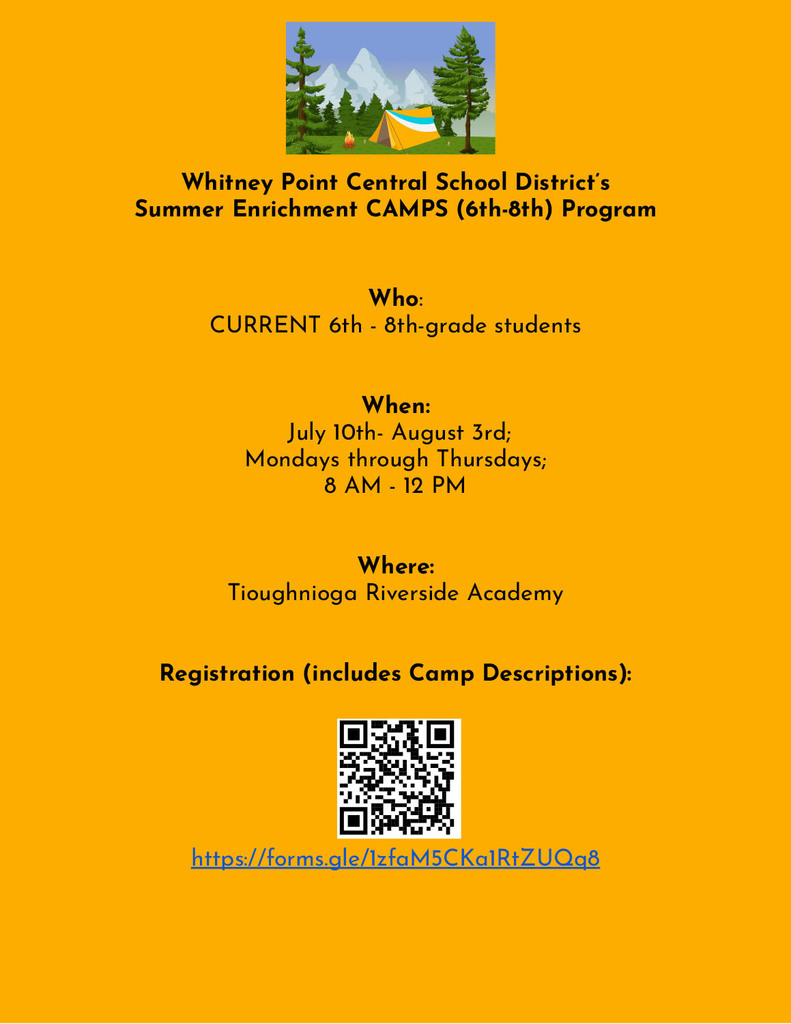 CEA Parents: Is your student missing an item? Check out this photo of things placed in the Lost & Found. Here is the contact information to claim an item: CEA Nurse– Jessica Burke,RN or Morgan Smith,LPN – phone is 607-692-8238.
JBurke@wpcsd.org
and
MSmith2@wpcsd.org
. Any items left on the last day of school will be donated when possible or disposed of. To view more items please go to the district Facebook page.

Come check out the amazing artwork from our talented students! The District Art Show is open to the public on June 6 & 7 from 3-8pm in the HS gymnasium.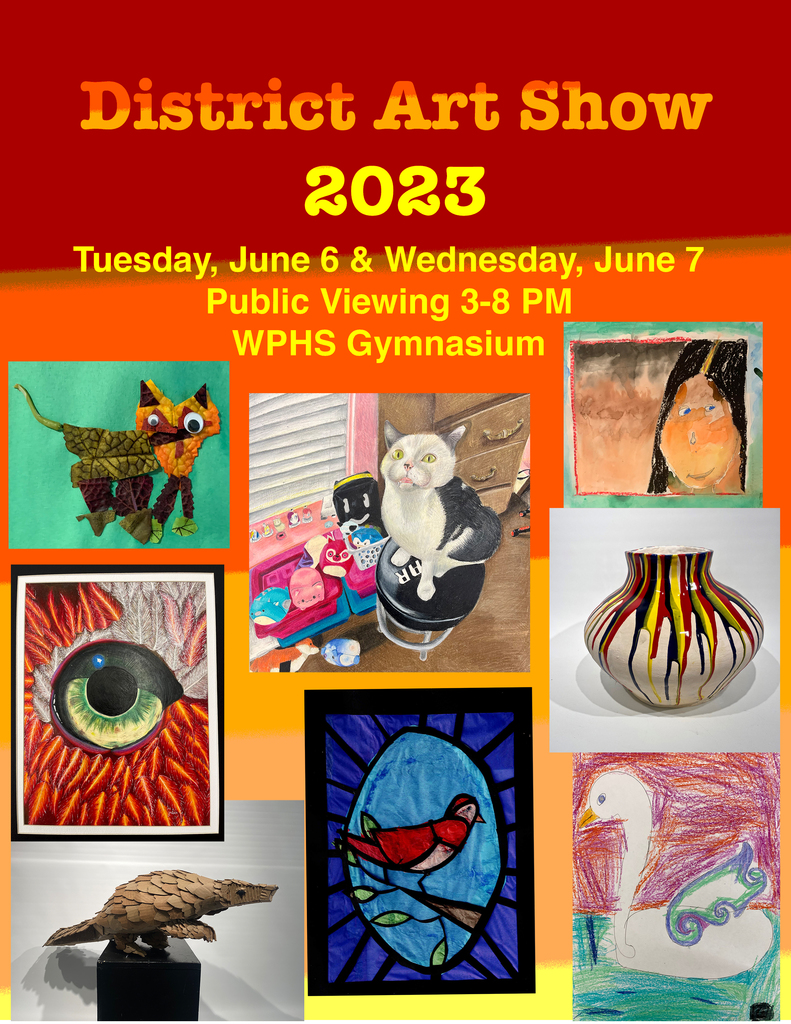 REMINDER: The Lourdes ACEs Program presents a Parent Cafe Meet & Greet on May 11th, 5:00-6:00pm. It will be held in library at the TRA. All TRA parents are welcome!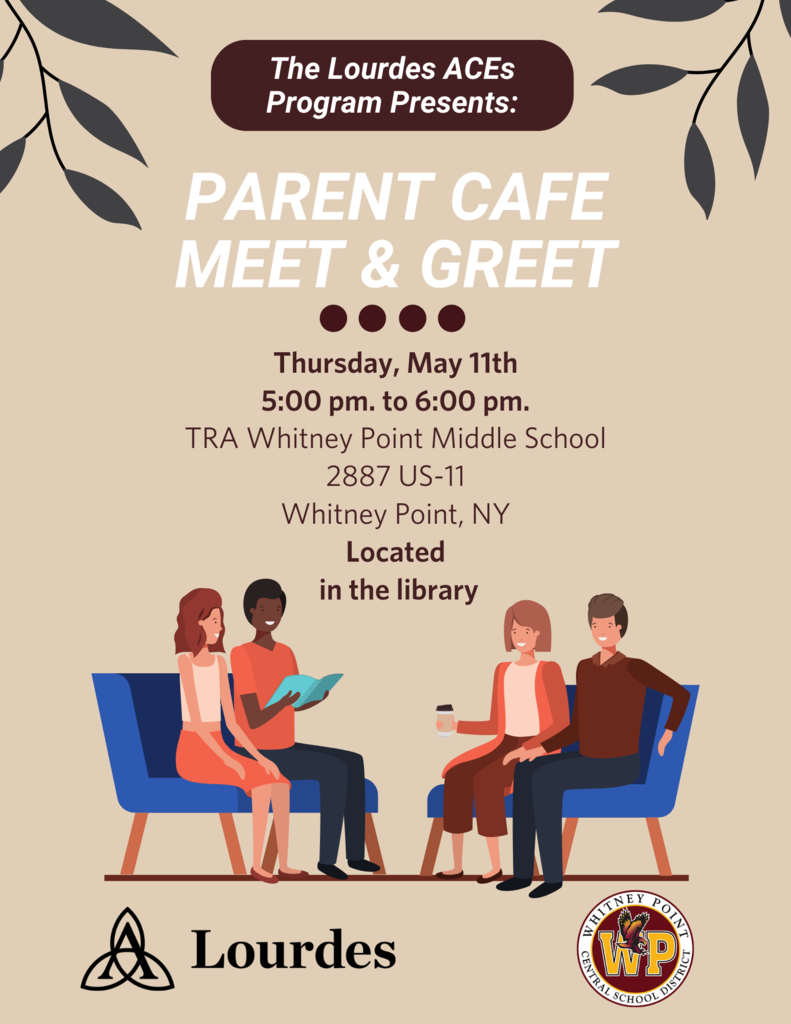 The Lourdes ACEs Program presents a Parent Cafe Meet & Greet on May 11th, 5:00-6:00pm. It will be held in library at the TRA.

Get ready to get loud & cheer on your favorite teachers as Whitney Point's Student Council announces its first annual faculty basketball game, a home game on May 19th @7pm, WP vs. Greene. Show your school pride as the Eagles take on the Trojans. All proceeds donated to charity.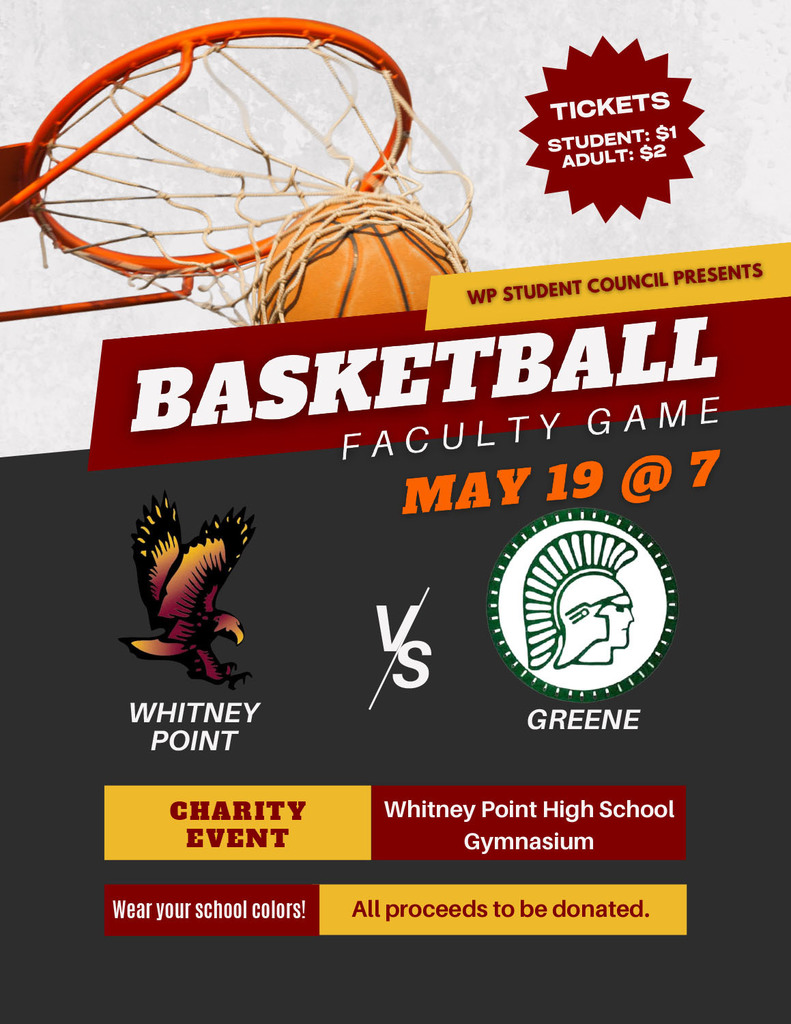 Attention 7th-12 graders! This awesome event, "Splash! at Cornell, is taking place on Saturday, April 29th. See flyer for the details on all of the fun classes being offered. To view the step-by-step registration guide, click on
https://5il.co/1sm3y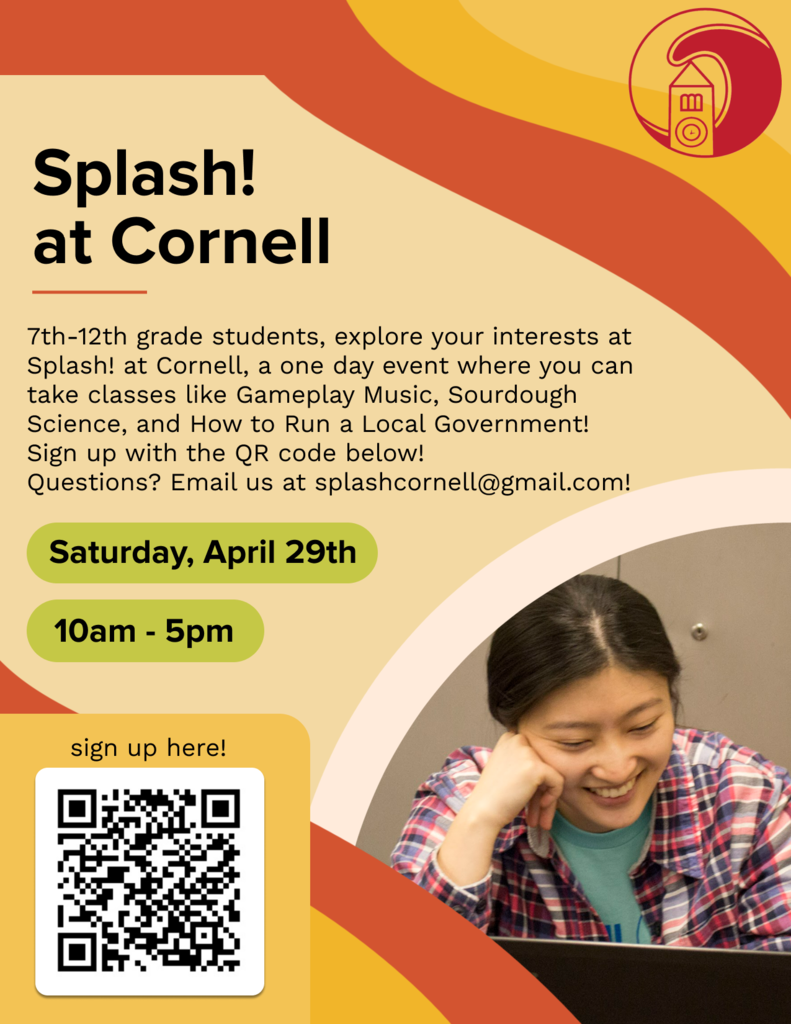 PK4-5th Grade Mother & Son Event. Come on out for a fun evening of games at the TRA Gym, April 21st, 6-8pm. See flyer for more information. Thank you to the Whitney Point PTA for bringing this epic game night to us!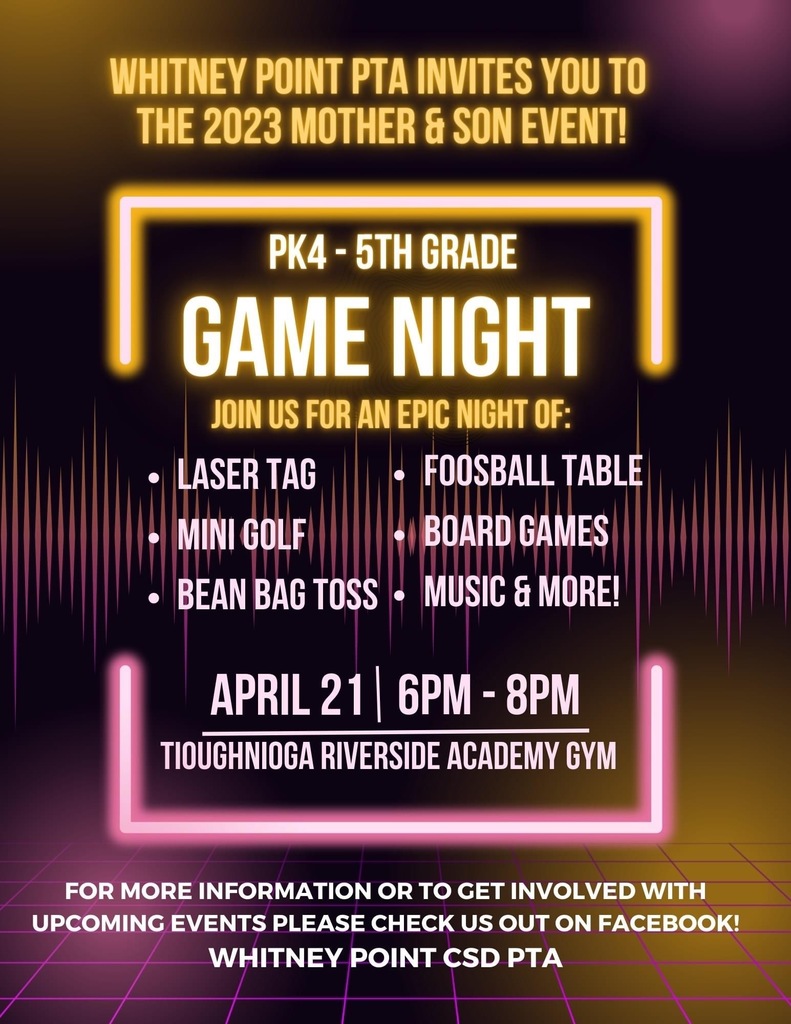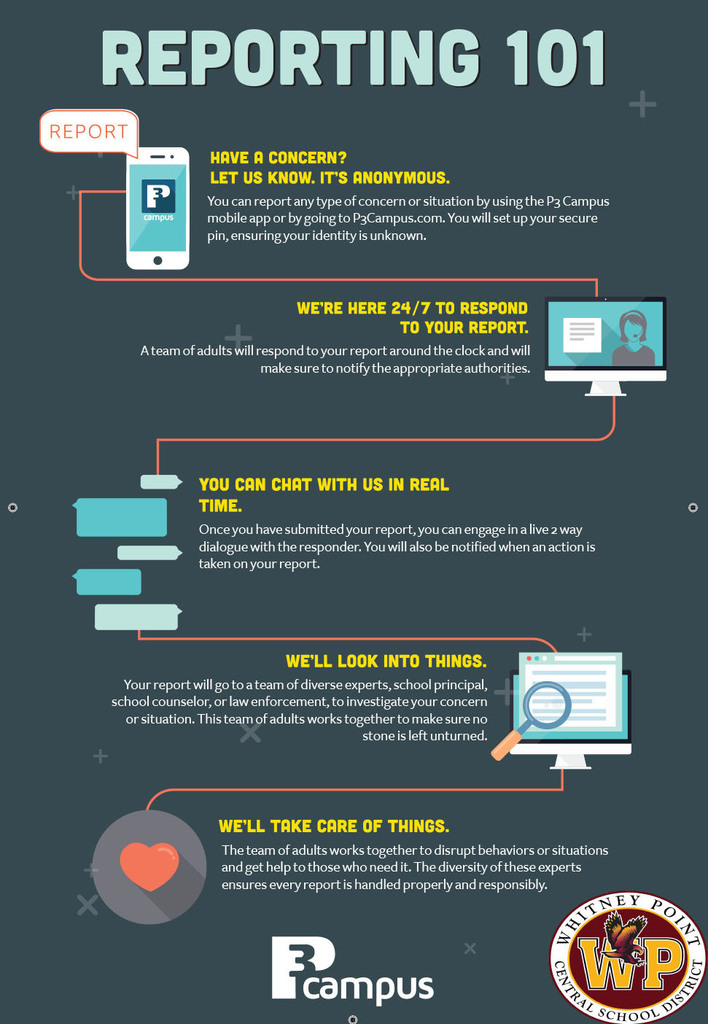 Check out this fun, educational event coming up at the CEA on April 28th. See flyer for details.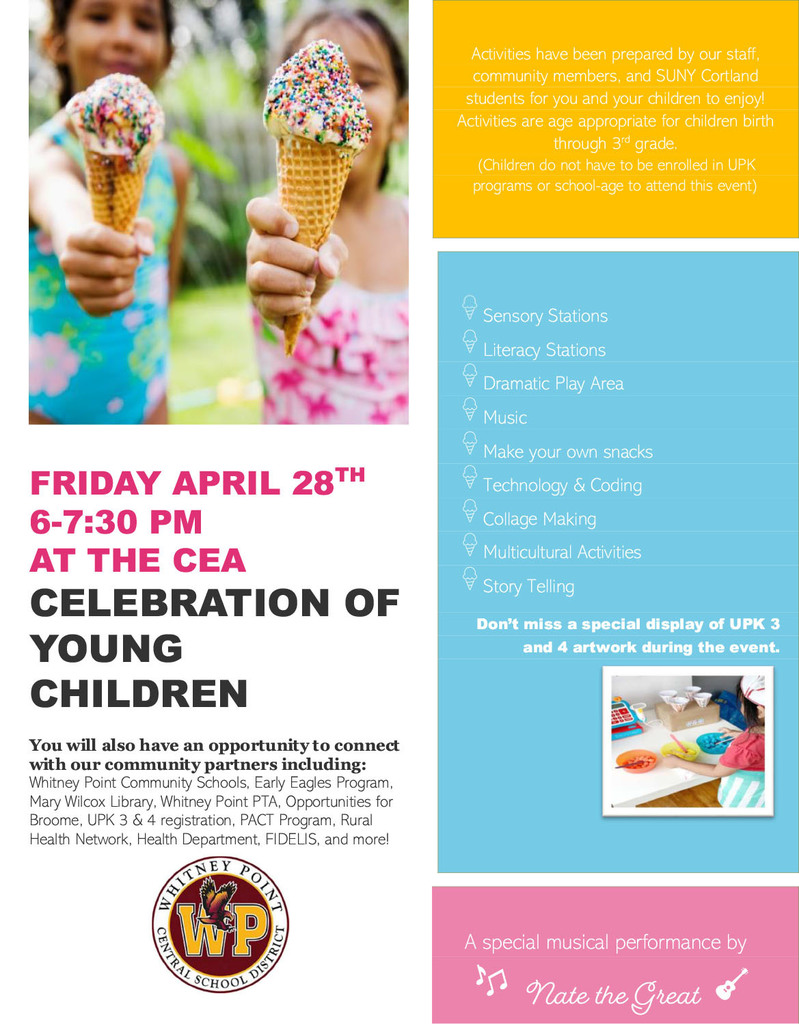 TRA's Family Literacy Night, will be held on Thurs., April 27 from 5-7 PM. See attached flyer for details. Register by using the attached document by Thurs., April 6 or electronically by Friday, April 14 using this link:
https://forms.gle/1CTP5xuFyrpaQz1v9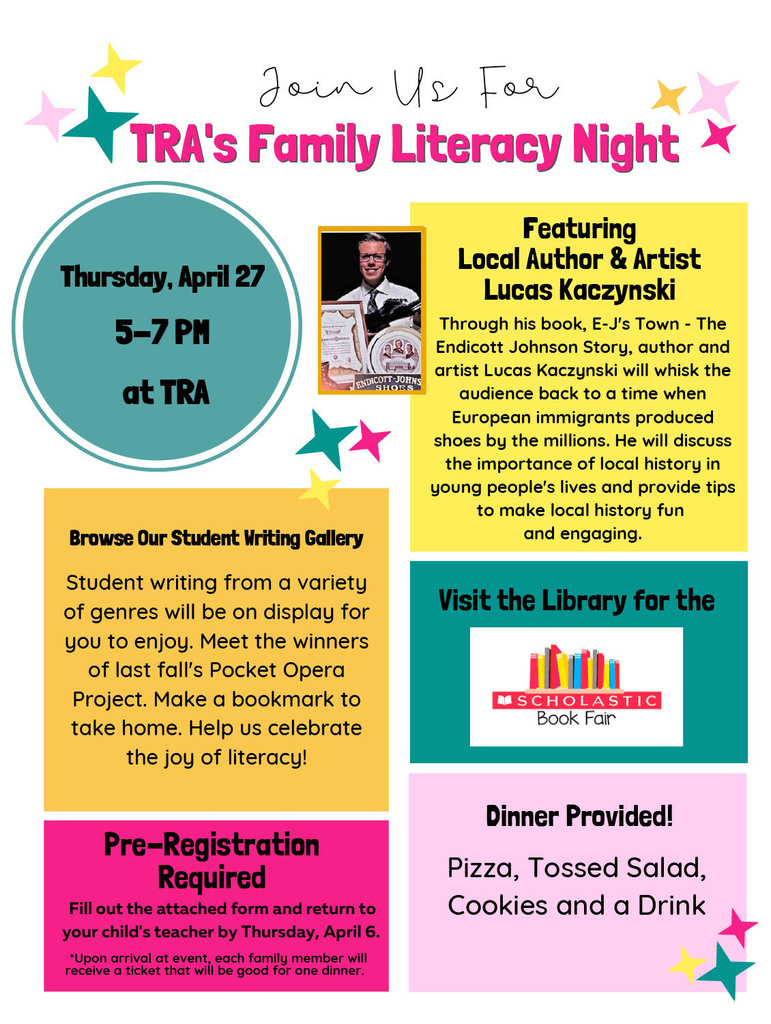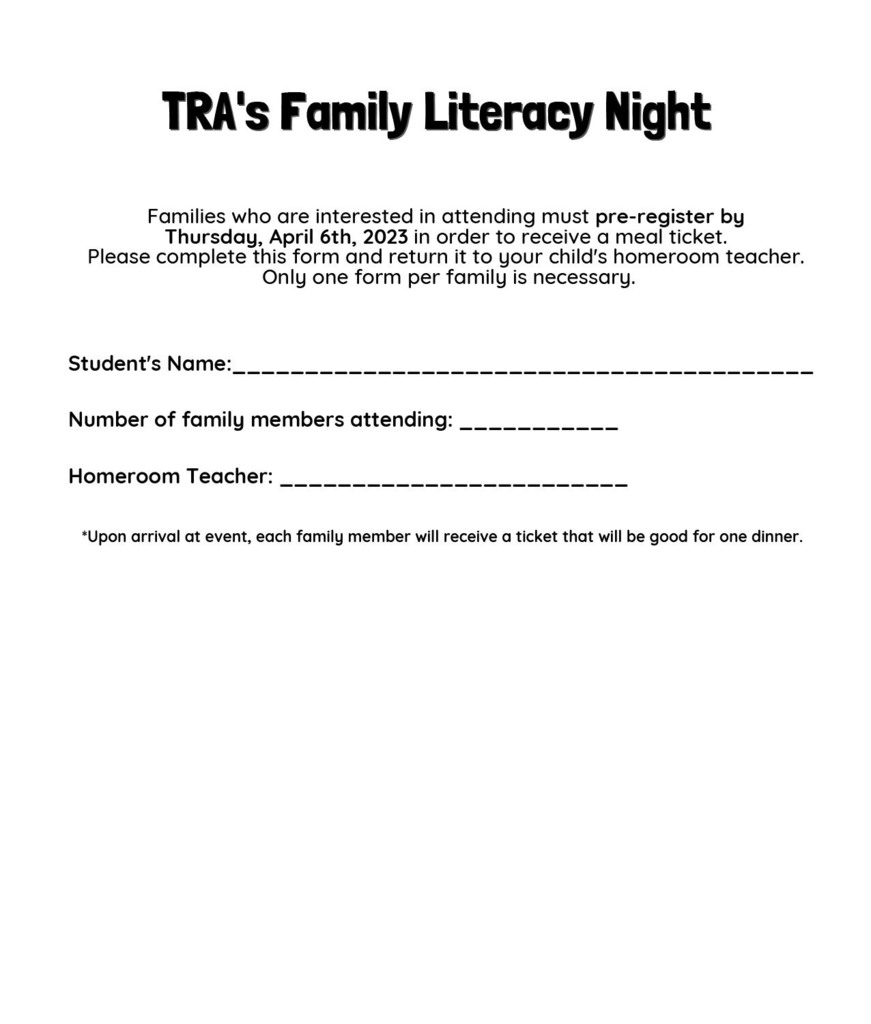 Spring recess will be here soon! What are your plans for the time off from school?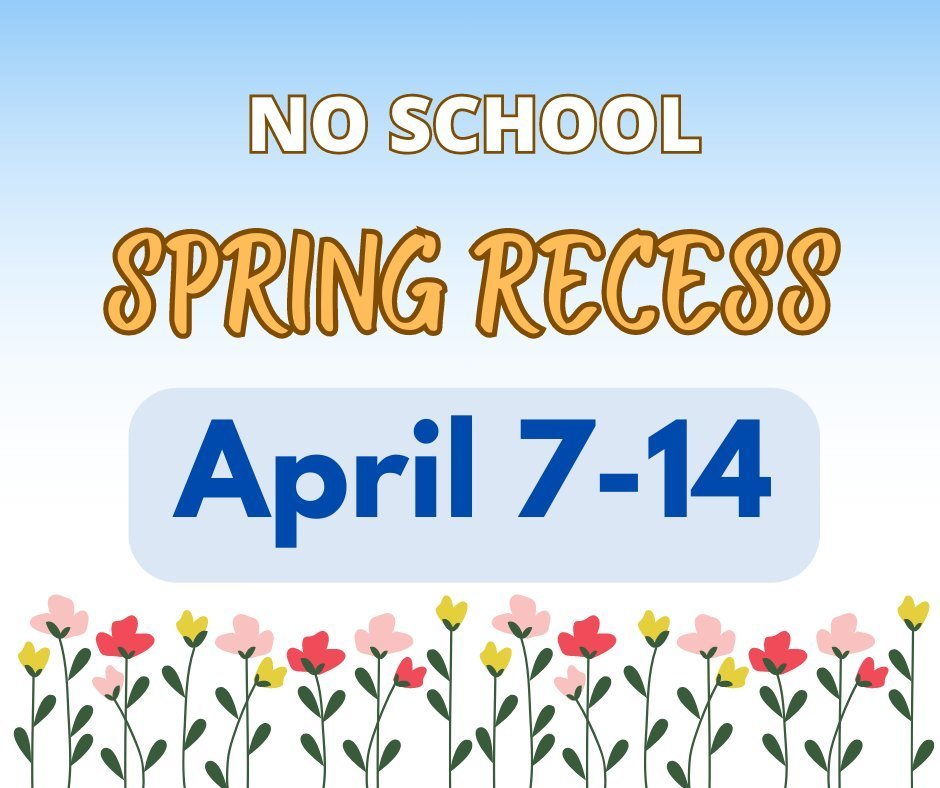 Mark Your Calendars! Spring break is coming up shortly. April 7-14.

Mark your calendars! Spring Recess is coming up shortly. April 7-14.