Students participating in the after school program SciGirls were treated to a presentation and activity with NASA Program Scientist Dr. Delia Santiago-Materese.
Students were able to learn about the various programs Dr. Delia works on in her Washington D.C.- based office. They also learned about the history of mission patches that NASA uses for their astronauts!
At the end, the students collaborated to create their own patch designs. Nancy Coddington, Host of SciencePub on WSKG says they will take aspects from each participant's design to create one patch.
At the end of the program, Coddington says they plan to print the patch design onto stickers that the students can take home!
---
About SciGirls:
SciGirls is an educational outreach program that is in a partnership between Whitney Point CSD and WSKG. Out program's hands-on activities and projects work to address a singular but powerful goal: to inspire, enable, and ,maximize STEM learning and participation for all girls, with an eye toward future STEM careers. We want to change how girls think about STEM and how the world sees girls.
---
About Dr. Delia Santiago-Materese:
Delia L. Santiago-Materese is a Program Scientist in the Planetary Science Division at NASA Headquarters. She leads the Solar System Workings (SSW) program, which supports research of a wide range of processes across our Solar System. She also leads the Dual Anonymous Peer Review (DAPR) efforts for the Planetary Science Division. Additionally, Delia serves as the Deputy Program Scientist for the Dragonfly mission to Titan.
Previously, Delia conducted planetary science research within the Planetary Science Branch of the Space Science & Astrobiology Division at NASA Ames Research Center, including supporting analog research. She earned her Ph.D. as part of the Pathways Program, a work-study program at NASA, where she studied the formation of water ice clouds under Martian conditions both in the lab and using Mars climate models. Prior to joining the Pathways Program, Delia was a Partnerships Specialist at the NASA Lunar Science Institute (now the Solar System Exploration Research Virtual Institute), where she developed International partnerships for the Institute and also developed the Institute's social media presence and supported the use of collaborative technologies. She served as the NASA CoLab Program Coordinator, where she developed relationships between NASA and the Silicon Valley, and trained groups within NASA to use then-burgeoning online technologies. Prior to these roles, Delia was an Experiment Support Scientist, where she supported Space Shuttle experiments and the development of payloads for the International Space Station.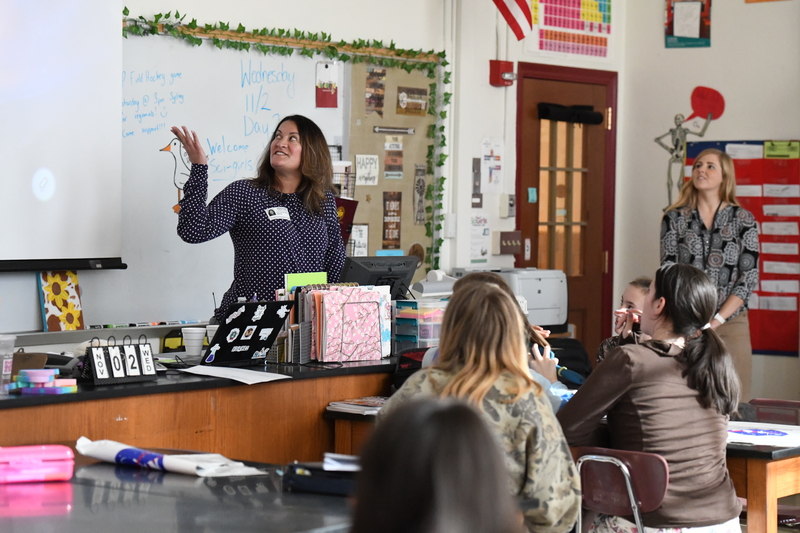 Dr. Santiago-Materese with students in SciGirls